Hello friends!
The August Box arrived this week! Here is our review of the August 2017 Pet Treater Subscription Box. I've broken down our review into 5 key components each worth 1 point on an overall scale of 5.
Packaging & Aesthetic
Variety of Items in the Box
Durability of Items
Value of Items
Does the Dog Like It?
A perfect score on this scale is a 5 out of 5. All item prices have been rounded to the nearest 50 cents for easy math, but prices may differ slightly online from various retailers.
Like last month, our Pet Treater box really stuck out of the pile of other deliveries – it is brightly colored with green, reds, and blues in a happy feeling pattern. Something I learned recently is that dogs see colors on a different spectrum from human beings and that she can see the blues and yellows on this box very well! I appreciated that it looked special and different from my other mail; I think of this kind of subscription box as a monthly present for my dog, and I think with these kinds of colors, Opal may come to recognize the packaging. She certainly was excited to see this one!
Inside the packaging was also vibrant and enthusiastic.
What's Inside?
Toys:
Canteen Ruff & Tuff Toy for Dogs – $4.90 from Walmart
Floppy Fish Toy for Dogs – $5 (?)
Both of these toys come from Bow Wow Pet, but unfortunately, neither of these toys lasted longer than 20 minutes… which is actually kind of a funny story in its own way. Opal still very much enjoyed the toys – but her enjoyment came from destroying them.
For the canteen toy, It originally came with a ring around the top part of the toy which Opal likes to thrash around with. The ring popped open (like the letter "C") which showed me that it was held together by tape! It was also then that the ring came loose from the main body of the toy and was flung up into the air into a ceiling fan which promptly shot it across the room and out the patio door. The dog, my family, and I all stared at one another in disbelief for a moment before breaking out in laughter from the absurdity of it.
Still, I do not feel like it was safe for Opal to continue playing with the toy after discovering the tape, and I had to trash it.
The Floppy fish had a less dramatic life, but simply fell apart and lost it's back fin with average play.
We have had some very fun toys from Pet Treater, but this month fell short in our minds. It should be noted that Opal is a bit of an intense player, but not a heavy chewer. If your dog is more a snuggler they may fare better with this brand.
Treats:
Health Bone Thins – $9.83
We're using these as training treats because each one is only 1.9 calories – Opal seems to like them. I like that they're more health conscious and we can go through a larger quantity to help motivate!
True Hemp Chews Health Support For Dogs – $13.75
These treats were not made in USA, but instead Canada, and are my favorite item in the box this month. My dog goes nuts for these, and they are a good size to hide in KONG type puzzle toys to keep the dog active during the day. The brand markets that "True Hemp Health Chews contains several powerful ingredients to naturally support the unique balance of dog bodies," so we'll continue using them to see if we notice a different in fur/coat quality and overall wellness.
For the Human:
Bent Objects Puzzle (Ice Cube Dreams)- $13.00
("This is not squeaky toy Mom.")
This puzzle is a perfect example of what I like about this subscription box – I was pleasantly surprised to see something not for Opal… but for me! I think she notied that it wasn't another stuffed toy for her, but I had a nice time setting this up on the coffee table and working on it with my sister while the dog lounged on the sofa supervising.
I ❤ Pet Head Playin' Dirty 3-In-1 Towel – $10.00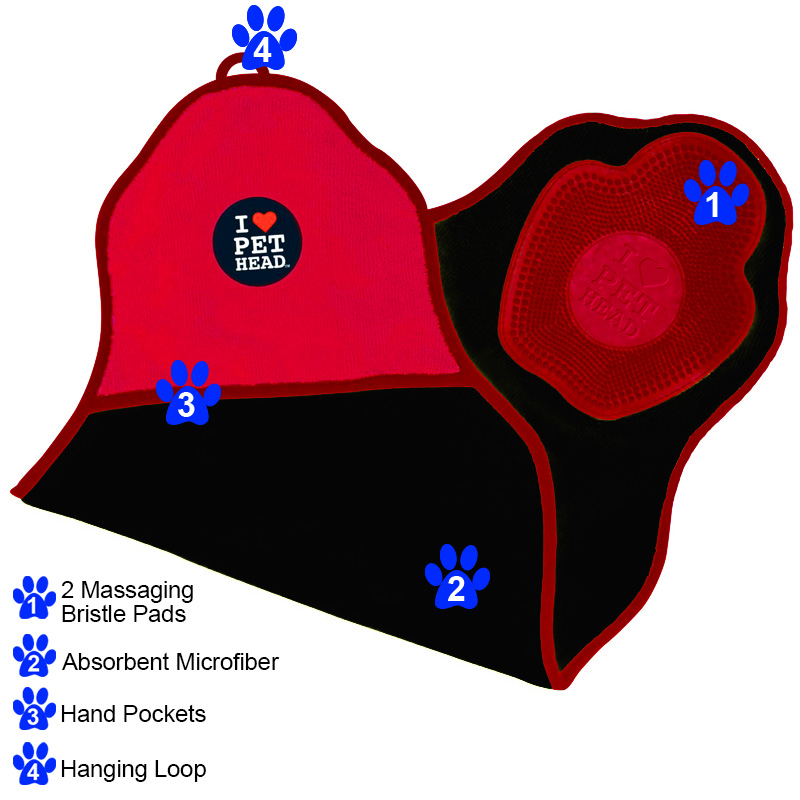 Magic Coat Spray On Shampoo – $10.00
After a beach day, Opal and I gave the Magic Coat Shampoo and the towel a try. Overall, Opal tolerates bath time with me (see last's month's bath photos in our review) but does not enjoy it. The thought of a spray on shampoo appealed to me just as an alternative to our usual method with traditional shampoos. The bottle reminds me of a bottle of spray sun screen and opens in a similar manner. The Oatmeal smell is nice and light, but the sound of the spray surprised my dog at first. Coverage is decent and will probably work for a light bath, but truly messy dogs will have better results with a liquid shampoo.
I actually really like the towel! The red mitts do a great job pulling the wet fur and removing loose strands that would otherwise come out on my floor and make me vacuum.
Does the Dog Like It? –
This month Opal;s favorites would probably be the treats. Usually she is more of a toy oriented dog, but these simply did not last. Still, the hemp treats are a fun addition to her KONG toy and she looks forward to playing with that and getting the goodies each day.
The Final Verdict:
Each time I get one of these boxes from Pet Treater, I really notice that many of the items are intended to be enjoyed by both my dog and myself both independently and together. I cannot understate how much I appreciate this, as most dog boxes are usually 100% toys and dog treats. The fact that there are items that I can enjoy as well as use with my dog is fantastic! The overall value of the items within the box this month also well exceed the monthly price of 24.99 in my opinion, but I really noticed that they two included toys were below my expectations. Ideally, I would like to see maybe some higher toy quality.
Packaging & Aesthetic – 1 point
Variety of Items in the Box – 1 point
Durability of Items – 0point
Value of Items – .5 point
Does the Dog Like It? – 1 point
Total Score: 3.5/5
Recommended
SaveSaveSaveSave
SaveSave